The European Journal of Literary Studies functions as a peer-reviewed academic publication that establishes a platform for the exchange of research findings and the propagation of insights within the realm of literary exploration. Here are key points concerning this journal:
Research Papers: This journal provides a venue for the publication of original research papers that encompass a wide array of topics within the domain of literary studies. These papers facilitate the presentation of fresh discoveries, theories, and advancements in research associated with literature.
Interdisciplinary Perspective: The journal actively fosters an interdisciplinary outlook, encouraging the fusion of knowledge from diverse interconnected disciplines. This approach seeks to comprehensively address the multifaceted challenges and dimensions encountered in the field of literary studies.
Critical Analyses: In addition to research papers, the journal features critical assessments of contemporary and pivotal issues within the realm of literary studies. These analyses offer comprehensive and profound evaluations of specific subjects, theories, and practices, yielding invaluable insights for researchers and scholars in the sphere of literature.
Regional and Global Insight: The journal provides perspectives on literary matters, with a specific emphasis on European contexts, while concurrently exploring broader global concerns. This dual regional and global perspective is pivotal for understanding the intricate facets and dynamics of literary studies.
Diverse Range of Literary Topics: The journal encompasses an extensive spectrum of subjects within literary studies. This includes literary critique, comparative literature, authorship studies, literary theory, and various interrelated aspects of the domain.
Scholars, researchers, literary connoisseurs, and individuals deeply engaged with literature will find this journal to be an invaluable resource. It operates as a platform for the dissemination of knowledge, the fostering of scholarly dialogue, and the cultivation of collaboration among experts in the field of literary studies. The European Journal of Literary Studies is published online in English, Spanish, Portuguese, French, and Italian. Printed copies of the journal are available on request. The manuscripts can be submitted by using the submission form or at submit@oapub.org, specifying the preferred journal.
Vol 4, No 2 (2023)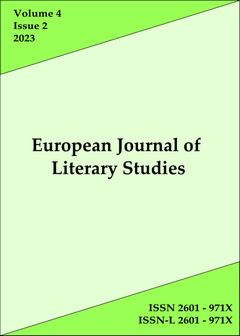 Table of Contents
Articles
| | | |
| --- | --- | --- |
| | Mustafa Amjed Jasim Al-Hameedawi, Sajjad Issa Ajlan Al-Moussaw | |
| | | |
| --- | --- | --- |
| | Kufre A. Akpan, Monica Udoette | |
| | | |
| --- | --- | --- |
| | Nguyen Thi Tuong Vy, Do Thi Xuan Quyen, Thai Cong Dan | |
| | | |
| --- | --- | --- |
| | Tran Ngoc Phuong Uyen, Do Thi Xuan Quyen, Thai Cong Dan | |
| | | |
| --- | --- | --- |
| | Le Thuy Diem, Nguyen Bich Thu | |
| | | |
| --- | --- | --- |
| | Ngo Thi Thu Trang, Hoang Diep, Dao Thi Hong Hanh | |