The European Journal of Political Science Studies is a peer-reviwed academic publication that functions as a platform for the exchange of research and the sharing of knowledge within the field of political science. Below, you'll find key features of this journal:
Research Papers: This journal provides a medium for the publication of original research papers that encompass a wide array of topics in the domain of political science. These papers typically present innovative insights and advancements in political science research.
Emphasis on Interdisciplinarity: The journal actively promotes an interdisciplinary perspective when addressing issues within political science. Its aim is to integrate knowledge and viewpoints from diverse academic domains to effectively tackle intricate political phenomena.
Critical Assessment: In addition to research papers, the journal includes critical evaluations of contemporary and significant subjects within the realm of political science. These assessments offer in-depth analyses of specific topics, providing valuable perspectives for researchers and scholars in the field.
Scope Encompassing Regions and the Global Arena: The journal offers comprehensive evaluations of political science within specific European regions and on the international stage. This emphasis is particularly beneficial for comprehending the diversities and global dimensions of political processes and governance.
Wide Range of Topics: The journal covers an extensive array of subjects within political science, encompassing areas such as political theory, comparative politics, international relations, public policy, and the study of political institutions.
For researchers, academics, and professionals involved in political science and related fields, this journal stands as an indispensable resource for staying abreast of the latest research and advancements. The European Journal of Political Science Studies is published online in English, Spanish, Portuguese, French, and Italian. Printed copies of the journal are available on request. The manuscripts can be submitted by using the submission form or at submit@oapub.org, specifying the preferred journal.
Vol 6, No 3 (2023)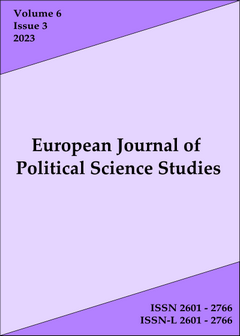 Table of Contents
Articles
| | | |
| --- | --- | --- |
| | Sri Sulistyawati, Iwan Setyawan | |
| | | |
| --- | --- | --- |
| | E. Uwak Uko, V. Edem Ebong | |
| | | |
| --- | --- | --- |
| | Nguyễn Trung Hiểu, Nguyễn Anh Thường | |